Spring is here. In LA, this past week was actually so hot and it was like a summer.
In any case, my spirit is feeling spring, so I decided to make a rice dish with
Sakura no Shio-zuke
(salt-pickled cherry blossom flowers)
. It's not very easy to find salt-pickled cherry blossom flowers in the US, but you can order online from some specialty shops (both imported and domestic made), or you can also make your own salt-pickled cherry blossom flowers if you can get the flowers.
Once you have the salt-pickled cherry blossom flowers, it's so easy to make cherry blossom rice with
double-lid donabe rice cooker, "Kamado-san"
!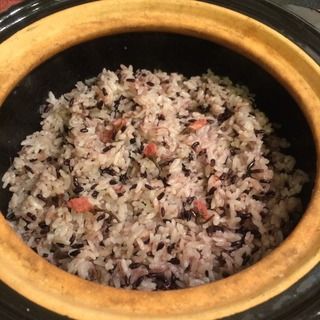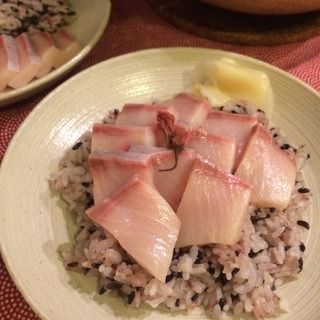 Addition of black rice (sometimes called "forbidden rice") made the finished rice become slightly pink and look really pretty with the cherry blossom flowers. The rice has the beautiful floral aroma from the cherry blossoms. The rice is great on it's own or with something else on the side to make it a complete meal. I like to serve with hamachi (yellowtail) sashimi. Tai (sea bream/ also called tai snapper) sashimi is also nice, too.
Sakura Gohan (Cherry blossom rice)
(3 rice-cup donabe rice cooker, "Kamado-san")
Ingredients:
(3 to 4 servings)
1 rice cup (180 ml) short grain rice, rinsed and drained
2/3 rice cup (120 ml) sweet rice (can be substituted with short grain rice)
1/3 rice cup (60 ml) black rice
1 1/2 cups (360 ml) water
2 tablespoons sake
2/3 oz (20 g) sakura no shio-zuke (salt-pickled cherry blossom flowers, stems included)
8 oz (240 g) or more sashimi-grade yellowtail, sliced
gari shoga (pickled ginger; optional)
soy sauce
wasabi paste (optional)
Procedure:
Soak the pickled cherry blossom flowers in cold water in a bowl for 5 minutes. Drain and gently rinse. Pat dry. Reserve a few pieces for garnish, and mince the remaining (including the stems).
In "Kamado-san", soak the rinsed rice (all kinds) with the water and sake. Soak for 20 minutes.
Add the minced cherry blossom flowers. Place both lids of "Kamado-san" so that the holes of the lids are positioned perpendicular to each other.
Set "Kamado-san" over medium-high heat and cook for 13-15 minutes, or until 2 minutes after the steam starts puffing out of the top lid.
Turn off the heat and let it stand for 20 minutes.
Remove both lids of "Kamado-san", and gently fluff with a rice paddle. Garnish with the reserved cherry blossom flowers.
To serve, plate in serving bowls and serve with some yellowtail slices and gari shoga on the side. Lightly dip the fish in soy sauce in a saucer with a dab of wasabi on the side, if you like.
Happy donabe life.